Jolly Harbour Yacht Club organised the first Valentine's Regatta in 1993 and the event has been held on the weekend closest to Valentine's Day every year since. In recent year's the regatta has been growing in popularity with local entries and yachts from overseas. 30 yachts competed in last year's edition including ocean racers, production cruising yachts, multihulls, sportsboats and dinghies. If your ship is in boat storage for the winter bring it out and join us for this event.
For the 2016 edition, registration opens on Friday 12 February, with a welcome reception at Jolly Harbour. Three days of racing follow in the beautiful surroundings of Jolly Harbour Marina and Five Islands peninsular. In addition to the Valentine's Regatta, a passage race to Redonda will be held on Tuesday 16 February, this will be a stand alone race, scored separately from the Valentine's Regatta. The Redonda Passage Race is designed to mirror the finish of the RORC Caribbean 600 Race, which will start on February 22. The passage race will finish on the south coast of Antigua.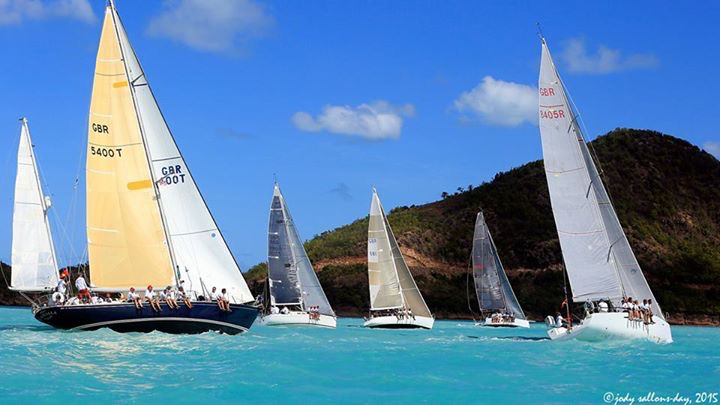 Valentine's Regatta Fleet (Jody Sallons-Day)
Antigua in February is heaven for any sailor; competitors at the Valentine's Regatta will experience one of the world's best race tracks with air temperature in the high twenties, crystal blue Caribbean Sea and Trade Winds. Shifting and gusting around the bays and islands on the northwest tip of Antigua, there is plenty of tactical analysis, as well as sublime sailing conditions.
For the Valentine's Regatta up to four races per day are scheduled with plenty of fun ashore after racing in Jolly Harbour Marina. The Redonda Passage Race will give teams a taste of the Caribbean Sea, with a tactically challenging windward leeward course of approximately 80 miles.
"Twenty knots of wind and flat water is typical for racing around Jolly Harbour and Five Islands in February, which is fantastic." commented Ross Applebey, skipper of Oyster 48, Scarlet Oyster, class winner in 2014. "In February, there are lots of racing yachts in Antigua for the RORC Caribbean 600, so the timing of the Valentine's Regatta is perfect. The addition of the Redonda Race makes sense too. The downwind leg to Redonda and the beat to the finish not only mirrors the '600, but it is also quite a technical section of the course, so it is a great idea. Scarlet Oyster will be in Antigua in February and I would highly recommend the Valentine's Regatta to charter guests that want to race with us."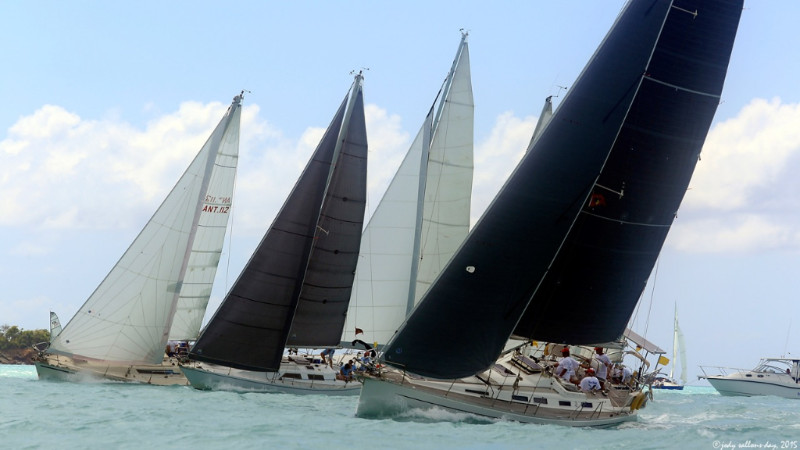 Twenty knots of wind and flat water is typical for racing around Jolly Harbour and Five Islands in February, which is fantastic. (Jody Sallons-Day)
Antigua's Bernie Evan Wong has been racing at the Valentine's Regatta for years. Last year Bernie competed in his Reichel Pugh 37 Taz, in just about every regatta in the Caribbean, clocking up over 3000 miles.
"In the past the Valentine's Regatta has been attended by local boats but everybody has always been welcome and in the last few years, we have seen a lot of people taking part from overseas, which is really appreciated and good for the future of the event." commented Bernie. " Compared to some other regattas it is a small friendly event but it is becoming more international. The racing is excellent, the courses are set outside Jolly Harbour and into Five Islands Marina. The wind conditions are very nice but it does get shifty in the bays, so good skills definitely get rewarded! I can't remember ever having a day lost to no wind. The atmosphere ashore in Jolly Harbour is good and everybody in the marina gets involved, so there is a real party atmosphere in the resort and on Jolly Beach."
The Valentine's Regatta is an open event to any yacht with a valid CSA or IRC Rating certificate and entry fees are US$5 per foot for the Valentine's Regatta and includes invitations to all the social activities.
Supported by Pearns Point, Mount Gay Rum and Banks Beer, the Valentine's Regatta has daily prize giving and live music every night, so there is plenty of opportunities to meet other competitors and have fun ashore. Jolly Harbour Marina has 155 new concrete berths with a cradle yard and boat yard offering a full range of marine services within Jolly Harbour Resort, which has 24 hour security. There is a dedicated Superyacht Dock that can accommodate nine yachts up to 200 feet in length. The international airport is just 30 minutes drive with direct flights to Europe, North America and all of the Caribbean Islands.
"I would like to extend a very warm welcome to all the overseas competitors joining us at the Valentine's Regatta. Over the years the event has grown and is now seen as one of the main events in the Caribbean. I am pleased that Pearns Point is supporting the regatta, as the company is part of the community in Jolly Harbour. I hope you all have a very enjoyable time in Jolly Harbour." Commodore of the Jolly Harbour Yacht Club, Grahame Williams.
For more information and to register for the Valentine's Regatta: www.jhycantigua.com