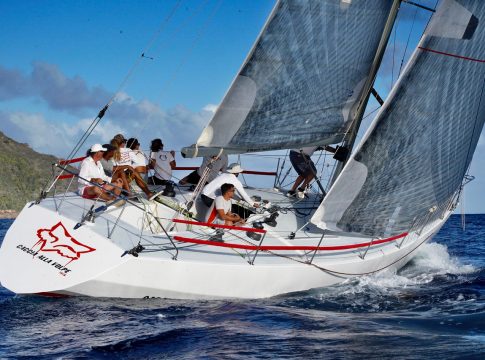 Story in the Antigua Observer: Story and photos by Edwin Gifford
The RORC Caribbean 600 will get underway on Monday at 11am off English Harbour's Fort Charlotte, when a canon blast signals the start of the 13th edition of this world famous ocean race.
With 76 boats from 32 nations and over 660 sailors competing, the RORC Caribbean 600 is recognised as one of the most difficult and competitive ocean races on the planet.
It will be contested by some of the world's best sailors, racing on some of the world's fastest boats.
Fort Charlotte and Shirley Heights are the recommended spots from which to witness the dramatic start of this epic contest.
With gear failure, sea sickness and all the other challenges involved in a contest of this calibre, boats are often forced to retire. Just finishing the race is often the accomplishment of a lifetime for the intrepid sailors brave enough to undertake it.
The 600-mile course will pass by 11 Caribbean islands. The fleet will first head north towards St Martin and then head as far south as Les Saintes off Guadeloupe, taking in Barbuda, Nevis, St Kitts, Saba and St Barts, along the way. The race finishes back at Fort Charlotte.
The 2019 edition of the event saw the multihull Maserati, skippered by Giovanni Soldini, set the course record with a time of one day, six hours and 49 minutes. Maserati has returned to Antigua for this year's race in the hope of equalling or bettering its 2019 success.
Antigua is well represented this year. English Harbour's own America's Cup sailors, Louis Sinclair and Shannon Falcone, will be racing aboard the 100ft maxi yacht Comanche. Last month, Sinclair and Falcone helped to pilot Comanche to a record-breaking victory in the RORC Transatlantic race from Lanzarote to Grenada.
Rocco Falcone, Shannon Falcone's younger brother, will be skippering the 46ft Caccia Alla Volpe and, at 21 years of age, will be the youngest captain in the fleet. Also sailing on board Caccia will be Oliver Smith, who at 19 will be the fleet's youngest sailor, and Jules Mitchell, 23, who will be the fleet's youngest watch captain. Rocco's sister Shirley is also part of the crew.
Antiguan yacht Liquid, a J122 owned by Pamela Baldwin and skippered by Julian White, aged 27, will also be racing with the crew hoping to improve upon their 2020 second place finish.
This will be White's fifth 600. White says finishing the 2018 race, when gale force winds caused over half the fleet to retire, was a "highlight".
"We managed to complete the course and get home in one piece," he says.
Low points, White continues, usually happen near Guadeloupe, where "the island's tall peaks create massive wind shadows and boats have to battle just to keep moving in the small little puffs of wind that result".
He says sleep is usually hard to get along the way as "the 600 is like one long inshore race, with so many short legs. It's a real challenge to find any appropriate places to get your head down".
Tristan Louwrens, from Willoughby Bay, will be sailing on Warrior. OnDeck's Farr 65 Spirit of Juno will be racing with Kay Anthony at the helm.